Belleville CPT

Bob Moffat submitted these pictures of life as a lineman on the CP portion of the CNCP line between Tichbourne, ON and Agincourt, ON. To see an enlarged view of the pictures please click on them.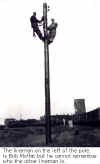 Bob Moffat (on the left) and another lineman Working up on a pole.

Bob Moffat working up on a pole at Bowmanville, ON. The picure was taken on June 30, 1978

Bob Moffat supplied the above picture of a Fairmont M19 Trackmotor car.
Webmaster Note: - This address is anti-spammed. Remove the pound sign (#) before the @ before sending your email
Date this page was last Updated
04/09/08 03:01:19 PM