MTS-Allstream Toronto Area Annual Golf Tournament
For the benefit of some "youngsters" out there, a bit of history. This tournament is an continuation of a tournament started by CNT's Ray Finegan and Ken Birt in Toronto in 1959,with 6 golfers. The tournament has been held every year since. Early participants that come to mind were Jim McDaniel, Bernie Scanlan, Norm Banning, Bob May, Orlando D'Andrea, Morley Kipp. I played my first one in 1961; have sadly missed four of them to now. When CNCP was formed in the 80's the number of participants increased significantly with the coming of CPTels employees from Montreal. Throughout the 90's Bernie Senay and his team set a standard for tournaments which continues to this day where suppliers in the telecoms industry and even customers have been generous with prizes. Even during difficult economic times "the company" has supported the tournament financially and the trophies, and I for one, as well as a host of our golfers are most appreciative. (J.A.R) Rocky Rochefort..

UNITEL/AT&T/ALLSTREAM
GOLF 2010

Golf tournament 2010 of UNITEL / AT&T/ALLSTREAM retirees

DATE : JUNE 15 2010 WHERE : MOUNTAIN ACRES/COMFORT INN TREMBLANT

For more information or questions call Lucien Fortin : tel. 450-686-8280 (fortin.lucien@videotron.ca) or Serge Giroux : 450 434-1395 (giroux5@videotron.ca)

GOLF 2009

To see some of the pictures from our recent pensioners' golf tournament and dinner in a web page gallery, click on the link below or copy the site, to your browser.The PW is Retired. http://edson.smugmug.com/gallery/8510988_jntxh#569098681_TiKoB

ALLSTREAM PENSIONERS
GOLF 2006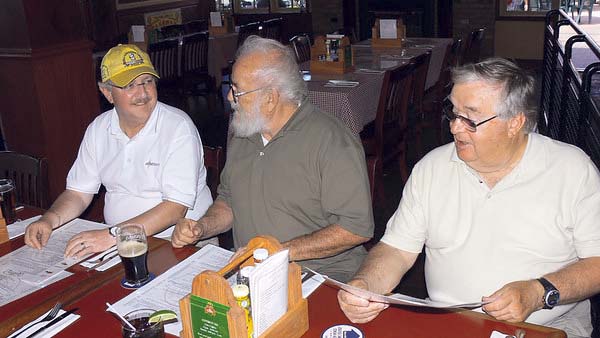 At about the same time as the U.S. Open was getting under way in Mamaroneck, New York at the Winged Foot Golf Course, our own Allstream Pensioners Golf Tournament went to the first tee (9 East Course) at exactly 10:02 a.m. on June 15th, 2006 at beautiful Centennial Park Golf Course in Etobicoke.
First (foursome) was Morley Kipp, Jacques Rochefort, Jon Taylor and Alf Kenzel. Norm Czepiela, Libor Sesel, Dieter Graeber and Hagen Von Chamier made up the second group off the tee. The day following our tournament, Bloomberg News released a story on The History of the Mulligan, just a little too late to incorporate mulligans into our tournament. We're getting enough copies of The Mulligan Story from Bloomberg to supply a copy to every golfer and/or those who showed up for lunch (dinner?) at the Wild Goose Bar & Grill, where the awards/presentations would later take place.
The third group off the tee, another foursome, were the McKeevers: Barbara, Boyd and Ken, and Bob Colbourn.
Next were Bob Gilliard, Dave Calder, Vic Hill and Bill Bradbeer.test
They were followed by Tom Moore, NickVukson and Frank Kelly.
Dyanne Arrowsmith and Doug and Laura South were a threesome in the sixth group.
Norm Banning, Al McVean and Mike Ricks went seventh.
Fred Doran, Lynn Sanderson and Esther Tilley constituted group eight.
The next group (number nine) are all newcomers to the tournament. Recent retirees, they came in as a foursome to "beef up" our roster of players. They were Ed Hughes, Doug Renshaw, Manny O'Quinn and Vahan Aghagulian.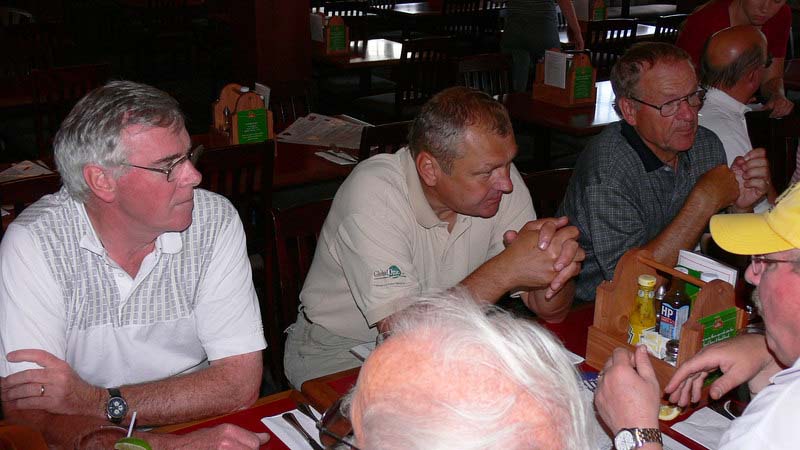 The last group (we had to pick up the markers) consisted of Dave Clement (Allstream), Peter Van Horne (Manitoba Tel), Wayne Boyle, and Bernard Scanlan. They teed off at exactly 11:06 a.m.
The markers were for:
Ladies Closest to the Pin on 3 West -- Barbara McKeever
Ladies Long Drive on 9 East -- Lynn Sanderson
Ladies Low Net, with 92, also Barbara McKeever
Ladies Low Net Runnerup, with 96 -- Lynn Sanderson
Men's Long Drive (250 yards) went to Vahan Aghagulian on 13 West
and Men's Closest to the Pin went to Dieter Graeber on 6 East.
Men's Low Net was won by Doug Renshaw, with a neat 68 score and Men's Low Net runnerup was Ed Hughes, with a tidy 73.
There were eight special prizes for the above fine efforts, so these people got first pick at the prize table.
The prizes, generously donated by Allstream's Dave Clement and Manitoba Tel's Peter Van Horne, ranged from a Big Bertha knockoff to a hardcover book titled Learning from the Links by David K. Hurst, also the author of Crisis and Renewal. Bob Colbourn of Addison on Dundas donated an oil change at his Chev dealership in Mississauga. Test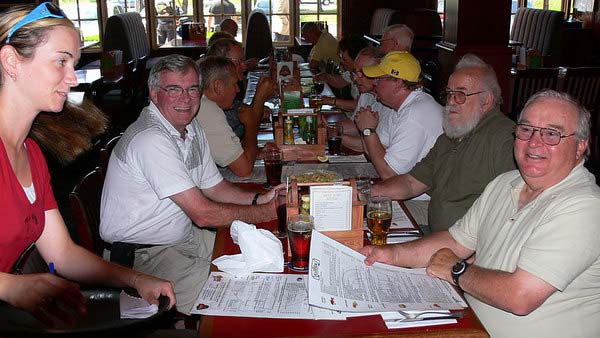 Ed Hughes has agreed to take over the reins next year and we're planning to make the reservations at the Centennial Park Golf Course and the Wild Goose Bar & Grill as soon as we learn the date of the AGM (it'll be about mid-June) and we'll hold the golf event the day after.
When the last group arrrived at the Wild Goose, the beer was flowing and the bubbly chatter was near deafening. But Sandy and her crew took good care of our group and the service was excellent. The food likewise. Sandy's been doing this for ten years!
Special thanks to Dave Clement and Peter Van Horne and our own Bob Harrison for making this event possible.
In summary, nearly fifty people showed up at the Wild Goose for the apres golf and lunch. There were thirty-six golfers in all, a mixture of threesomes and foursomes -- a fine turnout.
Make plans now and set that date aside (probably June 14, 2007, a Thursday). Same time, same place, same eatery. Eglinton West at Renforth. Come out and chat it up with some former fellow workers you might not have seen for twenty-five years. As the old Marineland ad used to say:
"You'll have a whale of a time!"


Committee: Jacques Rochefort
Doug South
Bernard Scanlan

For a more Pictures of the Tournament please go to http://edson.smugmug.com/gallery/1571706 The Password is Allstream (Please enter it as spelled)
(Editor's Note: Morley Kipp took several pictures of the group at the golf course and the eatery. We haven't viewed them all yet but we will very soon and decide which two, or so, would be appropriate for the newsletter.)

© 2019-May-Rudy Ortiz